Staying connected: BIDA's ongoing works
Jan 30, 2020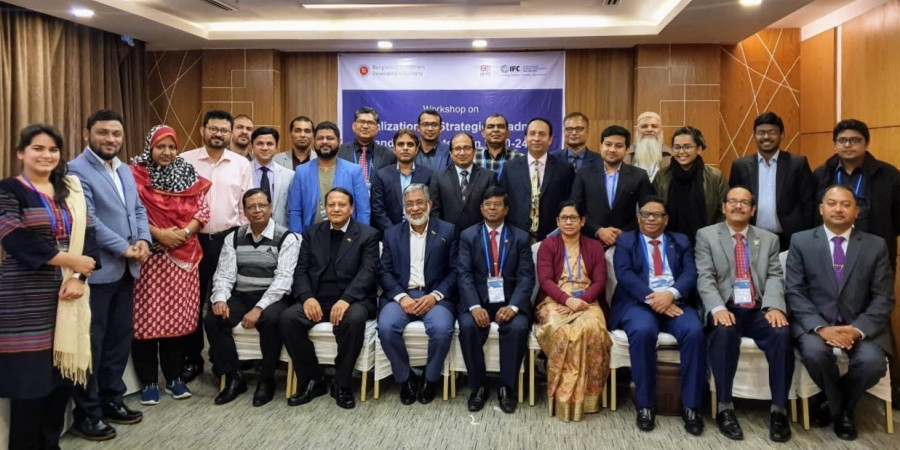 BIDA has worked proactively during the COVID-19 period, despite the challenges. Enhancing workplace coordination with the help of technology, BIDA created crucial documents and employed innovative methods to carry out duties.
Several internal meetings, including that of the Executive Committee and individual wings, were held by video conference to drive the progress of new and ongoing initiatives. Below are some of these major works:
Bangladesh Investment Handbook: A Guide for Investors
As the first point of contact for investors, BIDA provides information on regulations, incentives and other benefits of doing business in Bangladesh. As part of the overall effort to reach out to potential foreign and domestic investors through various channels, BIDA is publishing the Bangladesh Investment Handbook: A Guide for Investors. This publication contains the latest information on factors strengthening Bangladesh's business climate. It is also a guide for starting and operating businesses. Besides that, the book contains information on costs, taxation and visa procedures. It also provides data-intensive overviews of 7 high-priority sectors and 10 priority industrial sectors among those listed in the Industrial Policy-2016. 
Strategic Roadmap

BIDA and IFC joins workshop in Cox's Bazar for the finalisation of the proposed Strategic Roadmap on Jan 30, 2020.
BIDA has finalized the draft of the Strategic Roadmap FY2020-FY2024 for the effective delivery of economic outcomes sought by the government. The proposed roadmap drafted in Bangla outlines five key objectives: (i) attract private investment (ii) support existing investors with expansion potential (iii) coordinate and assist for a better business ecosystem (iv) establish effective and efficient OSS services and (v) promote Investment in the regions through divisional offices. The roadmap, prepared with technical assistance of the International Finance Corporation (IFC), includes a one-year Action Plan.
Investment promotion amid COVID-19
A taskforce at BIDA is currently working to propose a strategy for investment promotion in the new reality brought on by the novel coronavirus. The taskforce, headed by BIDA Executive Member-3 Nabhash Chadra Mondol, is developing specific methods of mitigating the pandemic's impact on Bangladesh's economy by focusing on new opportunities in foreign direct investment and local investment. BIDA is focused on proactively supporting the continuation and expansion of businesses besides targeted investment promotion.        
PMO initiative for enhanced IPA activities
 
BIDA has contributed to the formulation of recommendations for enhanced investment promotion during COVID-19 by a high-powered committee headed by Principal Coordinator (SDG Affairs) Ms. Zuena Aziz. BIDA along with the government's investment promotion agencies are members of this committee, which had recommended the lowering of the corporate tax rate, implemented in the National Budget, among other investment-friendly policy amendments.
Development of 18 sectors profiles   
BIDA officials have developed 18 sector profiles, making effective use of the general holiday period. BIDA directors, deputy directors and assistant directors created drafts, which were reviewed by BIDA's six Executive Members and the BIDA Secretary for finalisation. The profiles provide information on healthcare & pharmacy, ICT/Cyber Security, Telecommunication & networking, agro-processing, food processing, pharmaceuticals/medical equipment, jute diversification, plastics, ship building, light-engineering/automobile, motorcycle, tourism, ceramics, leather & footwear, infrastructure and power and energy. These provide insights on policy, national and global perspective along with other qualitative and quantitative analysis of these promising industries.         

Chameli BIDA Lounge

BIDA-funded lounge for investors at Dhaka's Hazrat Shahjajal International Airport.
BIDA has developed standard operating procedures (SOP) for the Chameli BIDA Lounge at Dhaka's Hazrat Shahjalal International Airport. The planned procedures have been shared with the Ministry of Civil Aviation and Tourism for feedback. The former Chameli Lounge was renovated by BIDA with the aim of providing round-the-clock airport services to investors travelling in and out of Bangladesh. The state-of-the-art lounge was inaugurated by HPM's Private Industry and Investment Adviser Salman Fazlur Rahman MP on Jan 27, 2020. Automated systems and staffers will be employed to help investors through all the processes of entry and departure including immigration and swift handling of luggage.


Observing Independence and National Day during Mujibborsho
Bangladesh celebrated Independence Day in 2020 – the year that marks the 100th
Birth Anniversary of the Father of the Nation Bangabandhu Sheikh Mujibur Rahman. As
the architect of our independent nation, Bangabandhu dreamed of a 'Shonar Bangla' –
a land of freedom, prosperity and equality.
"I extend my sincerest regards on the occasion of the 'Father of the Nation's 100th Birth Anniversary' and 'Independence and National Day-2020'," said BIDA Executive Chairman Md. Sirazul Islam in a message.
BIDA is fully dedicated to the realisation of 'Shonar Bangla' through the fostering of investment, which is a special initiative of the Honourable Prime Minister Sheikh Hasina, he added. "Through our combined efforts, we hope to take Bangladesh to the highest pinnacle of sustainable growth."
BIDA observed the day through the ceremonial raising of the national flag. The head offices of BIDA in Agargaon was adorned with special banners and decorative lights marking the auspicious day.