BIDA seminar discusses opportunities, policy readiness in Blue Economy sub-sectors
Aug 02, 2022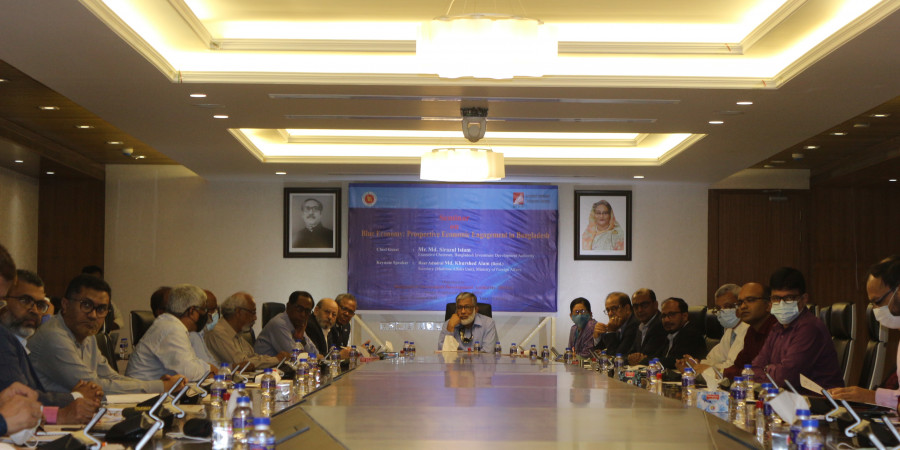 Bangladesh's foremost Blue Economy expert shares detailed ground-level insights, including unique opportunities and challenges  

BIDA has organized a seminar on Blue Economy sub-sectors to boost policy preparedness for investments, especially high-quality foreign direct investment.

Rear Admiral Md. Khurshed Alam (retd), Secretary Maritime Affairs Unit of the Ministry of Foreign Affairs, delivered the key note presentation in the Seminar titled 'Blue Economy: Prospective Economic Engagement in Bangladesh' on Monday. He provided ground-level insights for several sub-sectors including deep sea fishing, aquaculture, shipping, shipbuilding, ship recycling, marine tourism, oil-gas exploration and biotechnology.

He emphasized on ecologically sustainable approaches for increasing private sector participation in the sub-sectors and urged relevant authorities of the Government to provide the policy regime necessary for attracting high-quality investments.

"The Honorable Prime Minister Sheikh Hasina took the bold decision to secure the 2012 verdict that gave us undisputable claim over 664 kilometers of the Bay of Bengal. But while our neighbors are consistently employing knowledge to use the ocean's resources, we are yet to do the same," he said.

He stressed on effective policies to promote deep-sea fishing and aquaculture and implementation of regulations to stop illegal fishing by industrial trawlers within 40 kilometers of the shoreline. As the country's trade volume is growing consistently every year, Bangladesh should focus on developing its own shipping sector by raising the number of merchant vessels and depending less on foreign ships.

He also urged authorities to urgently focus on developing riverine routes for transporting containers from sea ports as a cost-effective alternative to trucking. He emphasized on the need to have well-coordinated infrastructure projects, and said the construction of the access roads for Pangaon port and inland container depot should be expedited. The authorities should take strong measures to explore off-shore gas blocks with reputed and reliable partners, he added.

He also discussed methods of building capacity in marine tourism, biotechnology, mineral extraction, monsoon tracking. He also emphasized on more research and human resource development, including creating more mariners etc.

"The private sector will play a positive role in supporting the government so that the policies created for the sub-sectors are investment friendly," said Md. Saiful Islam, President of the Metropolitan Chamber of Commerce and Industry (MCCI), while sharing his experience as a Blue Economy investor.

As apex investment promotion agency, BIDA will advocate business-friendly policies for these crucial sub sectors and is accepting policy suggestions from existing and potential private sector players of these sectors, said BIDA Executive Chairman Md. Sirazul Islam in his remarks as Chair of the Seminar. "We will hold separate sessions for the sub-sectors, collect detailed suggestions and act as the bridge between the government and the private sector. I urge the government authorities present here to develop policies in coordination with BIDA, sector experts and investors. We look forward to facilitate match-making in these sectors by using the FDI leads we have and generating much more."

Senior officials of the Ministry of Fisheries, Ministry of Shipping, Ministry of Industries, Ministry of Civil Aviation and Tourism, Ministry of Forests and Climate Change, Bangladesh Tourism Board, Department of Environment, Bangabandhu Sheikh Mujibur Rahman Maritime University, Bangladesh Bank, National Board of Revenue, Deep Sea Fishing Association, Matsajibi Sangathan, Metropolitan Chamber of Commerce and Industry, Dhaka Chamber of Commerce and Industry were present at the seminar.