'Bio-pharmaceutical and ICT in Bangladesh can become as big as RMG'
Jun 16, 2021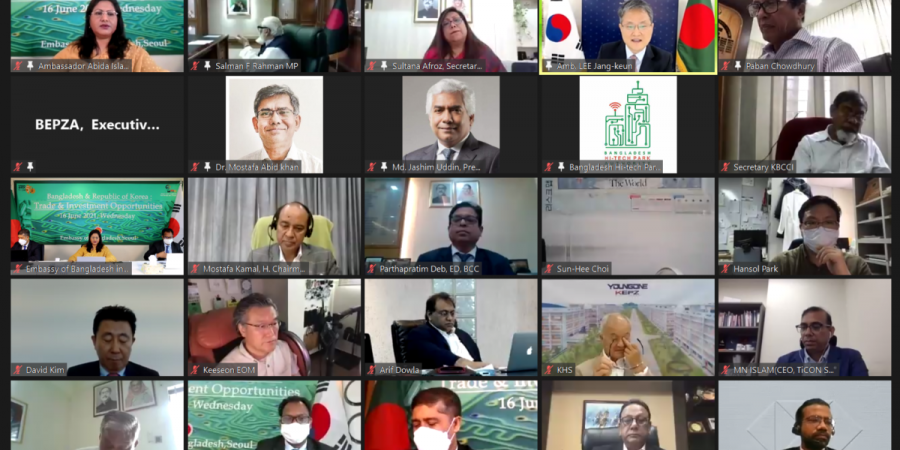 BIDA has participated in a seminar aimed at boosting investments from South Korea, particularly in pharmaceuticals, bio-industry and the ICT sector.
Both sides discussed charting a course of action for expanding cooperation in these thriving sectors during the event organized by the Embassy of Bangladesh in Seoul on Jun 16, 2021.
South Korea ranks fifth in the stock volume of FDI to Bangladesh among which RMG and textile related investment accounts for almost 80 percent, said H.E. Ambassador of the Republic of Korea, Lee Jang-keun, as he highlighted his country's pioneering role in building Bangladesh's RMG sector, which is now second largest in the world.
"Based on the success in the RMG sector cooperation, our goal is to diversify the commercial and business ties beyond the RMG and I believe that the two focal areas our host has chosen today, bio-pharmaceutical and ICT, are the areas where we have great potential to jointly reproduce the success we have seen in the RMG sector through close cooperation," he said.
BIDA Executive Chairman Md. Sirazul Islam talked about the market potential and the incentives that were being offered in these sectors.
"We applaud South Korea's world-renowned efficiency in ICT, pharmaceuticals and the life sciences. Proper policies and incentives are extended towards facilitating investment these sectors. On this note, I'd also encourage you to explore big opportunities in healthcare services and medical device, which also offer very attractive concessions. I hope our discussion will spark new projects, which we are fully prepared to facilitate" said the BIDA chief.
Dr. Mostafa Abid Khan, who formerly served the Bangladesh Tariff Commission as a Member (International Cooperation Wing), delivered the key-note address. Salman Fazlur Rahman, MP, Adviser to the Hon'ble Prime Minister of Bangladesh on Private Investment and Industry graced the occasion as the Chief Guest.
Speakers from the Korean side were Mr. Hong Kwang Hee, President of the Korea Importers Association (KOIMA), Mr. Hakhee JO, Vice Chairman of the Korea International Trade Association (KITA), and Mr. Kihak Sung, Chairman of the Youngone Corporation.
The panelists from the Bangladesh side included Paban Chowdhury, Executive Chairman of Bangladesh Economic Zone Authority (BEZA), Sultana Afroz, Secretary & CEO, Public-Private Partnership Authority (PPPA), Major General Md. Nazrul Islam, SPP, ndu, awfc, psc, G, Executive Chairman, Bangladesh Export Processing Zones Authority (BEPZA), Bikarna Kumar Ghosh, Managing Director (Secretary), Bangladesh Hi-Tech Park Authority, Partha Pratim Deb, Executive Director, Bangladesh Computer Council, Md. Jashim Uddin, President, Federation of Bangladesh Chambers of Commerce and Industry (FBBCI), and Syed Almas Kabir, President, Bangladesh Association of Software and Information Services (BASIS).
The Bio and Pharmaceutical sectors of Bangladesh and South Korea were represented by Abdul Muktadir, Chairman, INCEPTA Pharmaceuticals Ltd., and Arif Dowla, Group Managing Director, ACI Pharmaceuticals Ltd., Professor Keeseon S. Eom, President of the International Parasite Resource Bank, Mr. JeyKey Lee, Director, GIG International Co. Ltd. and Mr. Choi Sun-hee, CAC Trading Co. Ltd.
Representatives of the ICT-related companies from both sides including Lee Jangho, General Manager, Samsung S1 Corporation, Enayetur Rahman, CEO, ULKASEMI, M N Islam, CEO, TiCon System Ltd. also spoke during the webinar.