One Stop Service: Time-bound investor services now mandatory
May 10, 2020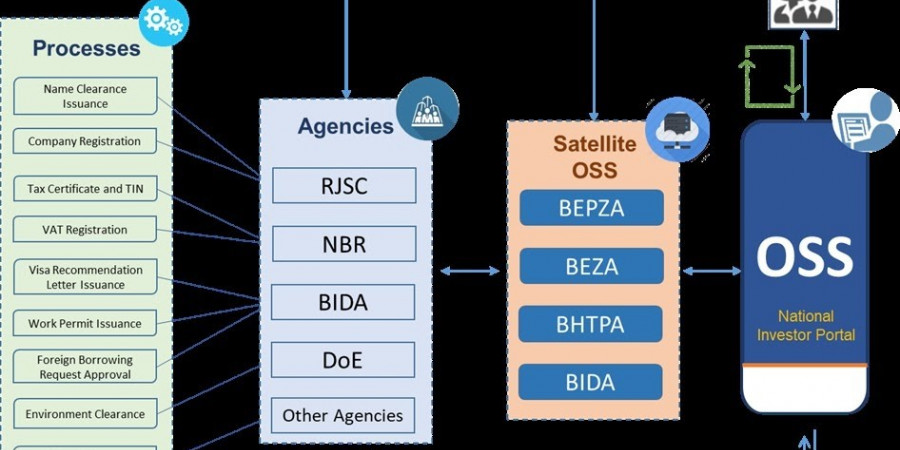 On May 10, the Government of Bangladesh issued the One Stop Service (OSS) Rules to reduce processes, time and cost involved with starting a business.
It is now mandatory to provide investor services within stipulated time.
A central One Stop Service authority has been established. The new body comprising of focal points assigned from all investor service-providing agencies will be led by the Executive Chairman of BIDA.
The authority will issue standard operating procedure for One Stop Service, advise and assist the service-seekers, monitor the progress of applications and take measures for swift processing of applications among other duties.
"The government is serious about online service delivery. That's the reason why the One Stop Service Act was passed and now the Rules have been issued. We are working to remove bottlenecks and provide better services," said BIDA Executive Chairman Md. Sirazul Islam. 
 One Stop Service: More urgent now
BIDA officials have been continuing their work through the online One Stop Service, despite the loss of the physical workplace.
BIDA officials processed more than a thousand applications during the general holiday period.  
 Online One Stop Service System

Application Process Summary

March 26, 2020 to May 10, 2020

Sl.

Action

No. of Applications

1

Application approved by BIDA

598

2

Application sent to OSS user for query

103

3

Application under process

293

4

Total application submitted/resubmitted by OSS user

994
 

Online One Stop Service System

Investor Support Summary

March 26, 2020 to April 30, 2020

 

Phone

Messenger

Live Chat

Any Desk

Email

 

1,278

127

68

120

158

 

 
The portal has a feature that allows investors to leave public feedback. The portal is also allows the monitoring of application processes through multi-level dashboards.   
Focus on integration
Despite limitations imposed by the pandemic, BIDA has held a series of virtual consultations and workshops with MoU partners in an effort to speed up integration of more online services.  
BIDA has engaged with the National Board Revenue, the Security Services Division of the Ministry of Home Affairs, the Office of the Chief Controller of Imports and Exports, the Registrar of Joint Stock Companies & Firms, Dhaka South City Corporation, Dhaka North City Corporation, Chattogram Development Authority, the Bangladesh Power Development Board, Dhaka Electric Supply Company Ltd (DESCO) and the Sonali Bank.   
On Jul 7, 2020, BIDA hosted a meeting with 10 government authorities to discuss the signing MoUs that will lead to the integration of 23 new investor services.
BIDA's new partners will be the Ministry of Land, RAJUK, Department of Inspection for Factories and Establishments, Department of Environment, Bangladesh Fire Service & Civil Defence, Dhaka Power Distribution Company, Northern Electricity Supply Company Limited, West Zone Power Distribution Company Limited, Bangladesh Rural Electrification Board and the Dhaka Chamber of Commerce and Industries.
BIDA is currently providing 21 data-enabled services through OSS.
BIDA's goal is to provide 154 services of 35 agencies through the OSS portal with technical support from International Finance Corporation.