BIDA signs MoU with A2i and Bangladesh Automobile Assemblers & Manufacturer's Association (BAAMA)
Mar 01, 2020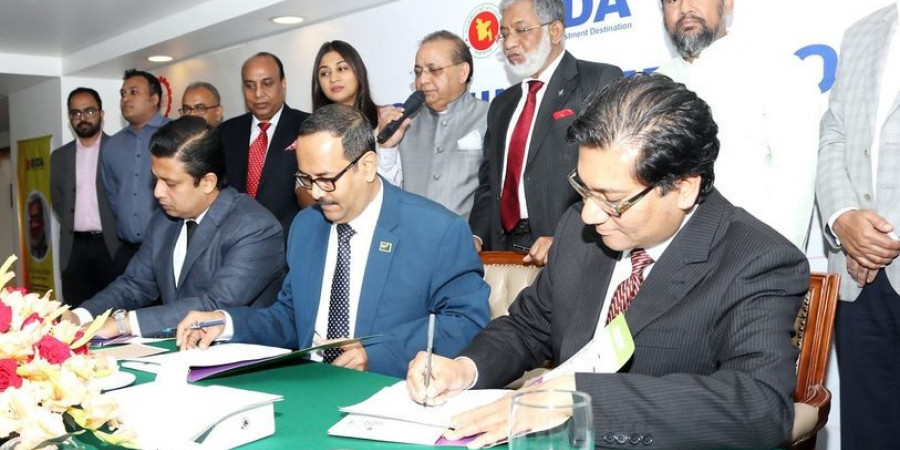 BIDA has signed an MoU with A2i and Bangladesh Automobile Assemblers & Manufacturer's Association (BAAMA) on Mar 1, 2020 for research and development of the Light Engineering, a high priority sector in the Industrial Policy.
Major steps for developing the automobile sector in Bangladesh were decided during a public-private dialogue organized by BIDA. A sub-sector of the Light Engineering sector, automobile and auto parts has untapped potential for high-value investment and job creation. The global market for automobiles is worth USD 9 trillion.  
The meeting chaired by the Executive Chairman of BIDA Md. Sirazul Islam was joined by top representatives from the Ministry of Industries, Ministry of Commerce, Road Transport and Highways Division, Bangladesh Road Transport Authority (BRTA) and Bangladesh Industrial Technical Assistance Center.
They engaged with business leaders from the Bangladesh Automobile Assemblers and Manufacturers Association (BAAMA), Bangladesh Motorcycle Assemblers and Manufacturers Association (BMAMA). Officials of a2i - Innovation Lab were also present in the meeting.
"The year 2020 has been declared 'Light Engineering Year' by our Honourable Prime Minister. Like RMG, Light Engineering can emerge as a lifeline sector. For that we must facilitate the technical and commercial development of its sub-sectors such as automobile," said the BIDA Chief.   
Uttara Motors Chairman Matiur Rahman, Runner Group Chairman Mr. Hafizur Rahman Khan, Rangs Motor Ltd. Managing Director Sohana Rouf Chowdhury, Ifad Autos Limited Managing Director Tanveer Ahmed also participated in the meeting.