BIDA invites Turkish investments in key sectors
Jan 21, 2020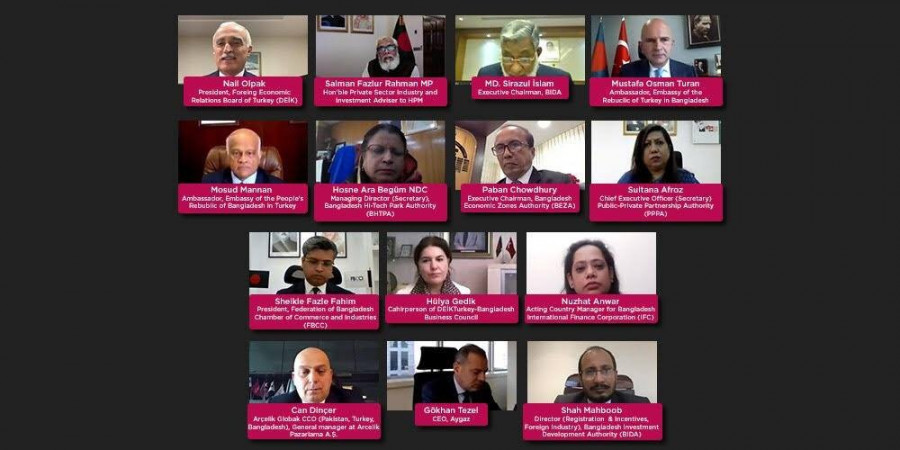 Over 170 private sector participants have joined a webinar organized to attract Turkish investments in agro-processing, RMG, Textile, Health, Technology, Construction and Infrastructure.
The webinar 'Turkey and Bangladesh: A New Era in Investment and Trade' was co-hosted by BIDA and DEiK - Foreign Economic Relations Board of Turkey on Jan 21, 2021.
The webinar follows Honourable Foreign Minister AK Abdul Momen's meeting with Turkish President Erdogan in Ankara in October last year. The two sides have committed to raising bilateral trade between Bangladesh and Turkey from less than $1 billion to $2 billion, according to official sources.  
"Dhaka is delighted to be a key partner under Turkey's 'Asia Anew' initiative," said the Hon'ble Prime Minister's Private Industry and Investment Adviser Salman Fazlur Rahman MP, who graced the event as Chief Guest.
"We are proud to see many prominent Turkish companies have already been investing to Bangladesh and we hope to see more in near-future," said DEiK President Nail Olpak.
"Early investors will reap the benefits available in Bangladesh. The Turkish government will continue to facilitate and support public-private and B2B partnerships in the coming period," said H.E. Ambassador of Turkey Mustafa Osman Turan. His Bangladeshi counterpart H.E. Mosud Mannan was also present.
Sheikh Fazle Fahim, President of Federation of Bangladesh Chambers of Commerce and Industries (FBCCI), and Hülya Gedik, Chairperson of DEİK Bangladesh-Turkey Business Council addressed the event. Can Dincer, Chief Commercial Officer of Arcelik Global and Gökhan Tezel, Chief Executive Officer of Aygaz, shared their experience as existing investors. 
The webinar, moderated by BIDA Executive Chairman Md. Sirazul Islam, featured presentations from Bangladesh Economic Zones Authority (BEZA) Executive Chairman Paban Chowdhury, Bangladesh Hi-Tech Park Authority Managing Director (Secretary) Hosne Ara Begum ndc, Public-Private Partnership Authority (PPPA) Chief Executive Officer (Secretary) Sultana Afroz and BIDA Director (Registration and Incentives – Foreign Industry) Shah Mahboob. Nuzhat Anwar, Acting Country Manager (Bangladesh, Bhutan and Nepal) of International Finance Corporation (IFC), which provided technical assistance for the webinar, also addressed the event.
BIDA will be working with DEiK to organize sector-specific B2B sessions in the coming days.