One Stop Service: BIDA discusses MoUs to integrate 23 more services
Jul 02, 2020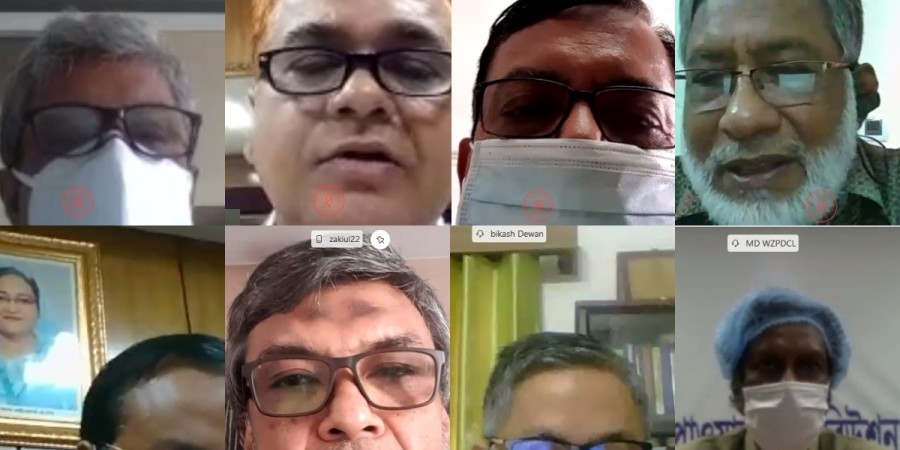 BIDA is working with 10 government authorities to sign MoUs that will lead to the integration of 23 new investor services with its online One-Stop Service (OSS) portal.
BIDA's new partners will be the Ministry of Land, RAJUK, Department of Inspection for Factories and Establishments, Department of Environment, Bangladesh Fire Service & Civil Defence, Dhaka Power Distribution Company (DPDC), Northern Electricity Supply Company Limited, West Zone Power Distribution Company Limited, Bangladesh Rural Electrification Board (BREB) and the Dhaka Chamber of Commerce and Industries (DCCI).
On Thursday, BIDA Executive Chairman Md. Sirazul Islam engaged with senior officials from the above organisations in a virtual meeting hosted by BIDA.
Md. Shahid Ullah Khandaker, Secretary, the Ministry of Housing and Public Works was present in the meeting along with top officials from the Power Division, the Ministry of Home Affairs and Ministry of Environment Forest and Climate Change. They provided feedback on the draft MoUs and ensured that the finalisation process will be swiftly completed.
"Online services are an urgent priority, especially considering the COVID-19 pandemic. Our stakeholders in the private sector have been communicating their need for faster, easier and more transparent digital services," said BIDA chief Md. Sirazul Islam.
"After we sign the MoUs, we will have to work hard to integrate your interface with BIDA's OSS. I am very happy to find out that out of these 10 authorities, six have already prepared their application programming interface (API). We thank you wholeheartedly. Let us work together, so that we can jointly contribute to the Honourable Prime Minister Sheikh Hasina's vision for Digital Bangladesh," he added.
BIDA currently has 12 MoUs for service integration with the Registrar of Joint Stock Companies and Firms (RJSC), the National Board of Revenue (NBR), Dhaka South City Corporation (DSCC), Dhaka North City Corporation (DNCC), Chattogram City Corporation (CCC), Sonali Bank, Election Commission Secretariat, Security Services Division (SSD) of the Ministry of Home Affairs, Chief Controller of Imports and Exports (CCI&E), Chattogram Development Authority (CDA), Bangladesh Power Development Board (BPDB) and the Dhaka Electric Supply Company (DESCO).
The country's first inter-operable online service platform, the One-Stop Service currently provides 18 services from BIDA, the Registrar of Joint Stock Companies and Firms and the National Board of Revenue. BIDA's OSS team is in the process of integrating another 11 services under the existing MoUs.
Once the 10 new MoUs are signed and implemented through service integration, as many as 52 data and payment enabled G2B services will be available on BIDA's OSS. BIDA's goal is to integrate as many as 154 services from 35 agencies with technical support from International Finance Corporation (IFC).
The 10 proposed MoUs will lead to the integration of the following services:
Ministry of Land
1. E-mutation
2. E-khatiyan (record of rights)
3. Mutation Khatiyan
RAJUK (Rajdhani Unnayan Katripakkha)
4. Land Use Clearance
5. Plan approval
6. Special project permit for large or specialised projects
7. Occupancy certificate
Department of Inspection for Factories and Establishments (DIFE)
8. Licence of Establishment
9. Factory Machine Layout Plan approval
10. Licence renewal and correction
Department of Environment
11. Site clearance
12. Environmental Impact Assessment (EIA) approval
13. Environmental clearance certificate
14. Renewal
Bangladesh Fire Service & Civil Defence
15. Fire licence approval
16. Fire licence renewal
17. No Objection Certificate (NOC) for multi-storied buildings
Dhaka Power Distribution Company (DPDC)
18. New electricity connection
Northern Electricity Supply Company Limited
19. New electricity connection
West Zone Power Distribution Company Limited
20. New electricity connection
Bangladesh Rural Electrification Board
21. New electricity connection
Dhaka Chamber of Commerce and Industries
22. Certificate of Origin
23. Membership certificate
Services currently undergoing the process of OSS integration:
Security Services Division (SSD) of the Ministry of Home Affairs
1) Security Clearance
Office of the Chief Controller of Imports and Exports (CCI&E)
2) Issuance of Import Registration Certificate (IRC)
3) Issuance of Export Registration Certificate (ERC)
4) Renewal of Import Registration Certificate (IRC)
5) Renewal of Export Registration Certificate (ERC)
Chattogram Development Authority (CDA)
6) Issuance of Land Use Clearance
7) Plan Approval
8) Large & Specialized Projects Clearance
9) Issuance of Occupancy Certificate
Dhaka Electric Supply Company (DESCO)
10) New Electricity Connection
Bangladesh Power Development Board (BPDB)
11) New Electricity Connection
The 18 services now available on OSS:
Bangladesh Investment Development Authority (BIDA)
1. Industrial Project Registration
2. Branch/Liaison/Representative office opening permission
3. Extension of Branch/Liaison/Representative office opening permission
4. Cancellation of Branch/Liaison/Representative office opening permission
5. Amendment of Branch/Liaison/Representative office opening permission
6. Visa Recommendation
7. Amendment of Visa Recommendation
8. Visa on Arrival
9. Amendment of Visa on Arrival
10. Work Permit
11. Extension of Work Permit
12. Cancellation of Work Permit
13. Amendment of Work Permit
14. Remittance Approval
Registrar of Joint Stock Companies & Firms
1. Name Clearance Certificate
2. Company Registration
National Board of Revenue
1. TIN Certificate
Sonali Bank
1. Online Payment Gateway