BIDA celebrates Victory Day 2020
Dec 21, 2020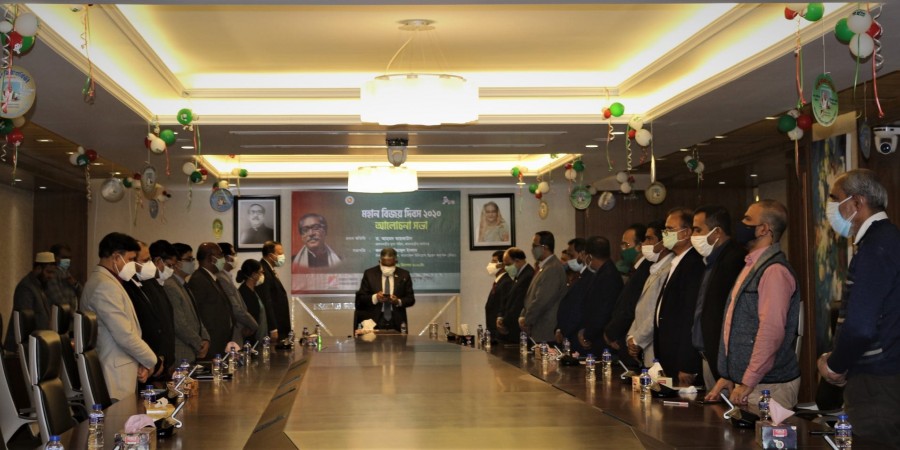 BIDA officials joined a discussion on the nation's Victory Day 2020 on Dec 21. BIDA Executive Chairman Md. Sirazul Islam chaired the discussion at BIDA's Agargaon office.
A minute of silence was observed at the beginning of the discussion. On Dec 16 in 1971, Bangladesh was born as an independent country under the leadership of Father of the Nation Bangabandhu Sheikh Mujibur Rahman at the cost of supreme sacrifice of three million people and the honour of nearly half a million women.
Chief Guest Dr. Ahmed Kaikaus, Principal Secretary to HPM, joined the discussion through a video link. "Today, as a nation, we are at a turning point. We have marked the golden jubilee of our independence and the birth centenary of our nation's father, Bangabandhu Sheikh Mujibur Rahman," said Dr. Kaikaus.  
BIDA chief Md. Sirazul Islam said, "We are eternally grateful to Bangabandhu and our freedom fighters. In order to truly respect our heroes, we must join hands to achieve Bangabandhu's dream of Sonar Bangla, which is a land peace, equality and prosperity. For this we have to face our challenges and move forward." 
Executive Member Nabhash Chandra Mandal, Director General Ziaul Huq, Director Md. Shah Alam, Director, Director AKM Benjamin Riazi, Assistant Director Abu zer Gifary Tamal, Assistant Md. Monirul Islam and driver Mr. Md. Safar Ali delivered speeches at this programme. The discussion was moderated by Deputy Director Umme Rumana Tua.
All officials and staffers of BIDA joined the programme. Officials from BIDA's divisional offices also participated using a virtual platform.