Gathering policy ideas from MCCI, FICCI
Apr 07, 2020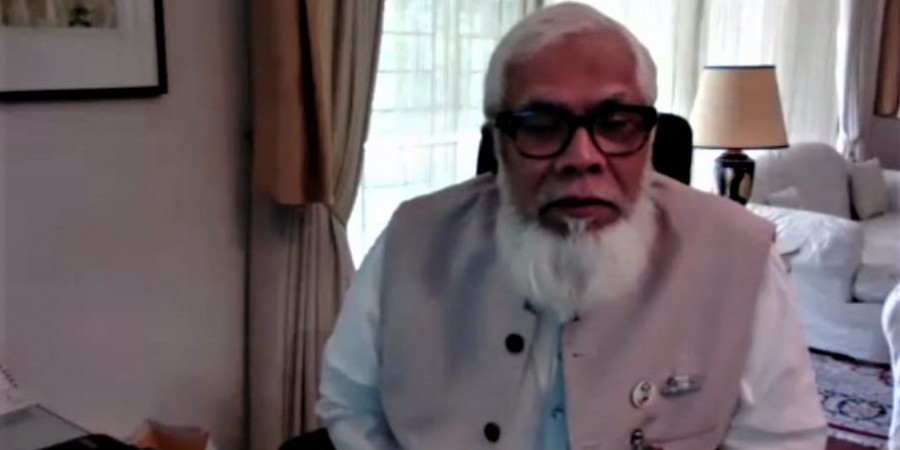 The present time is dominated with concerns for securing lives and livelihoods as the pandemic continues to reduce productivity and confidence. This is the scenario in most parts of the world, including Bangladesh.
Despite the unprecedented challenges, BIDA has continued to work with stakeholders, making sure to reach diverse groups of investors during the general holiday period prompted by the COVID-19 pandemic.  
BIDA organized a virtual session with the Metropolitan Chambers of Commerce and Industries (MCCI) and the Foreign Investors Chambers of Industries (FICCI), including representatives from the financial sector.
The Honourable Prime Minister's Private Industry and Investment Adviser Salman Fazlur Rahman MP joined the session as chief guest. "It is a challenging and unnatural time. This is something we have to face. The government's main emphasis at this moment is to fight the virus. Second is the immediate necessity of business.
"The government decided that we must ensure that everybody gets their salary paid, even those not working, so that there is a certain amount of liquidity in the economy. The Honourable Prime Minister has made short-term fiscal announcements. We will find out the extent to which Bangladesh has been affected and then diagnose the problem to develop long-term initiatives," he said. 
"Even though the shock is unprecedented, emerging safe is not impossible, said BIDA Executive Chairman Md. Sirazul Islam, who chaired the session. "Listening to stakeholders and implementing urgent policy measures, along with providing access to fiscal and financial stimulus, can ease the financial burden on investors."
BIDA officers participated in the session and officially shared the recommendations gathered from this session with concerned ministries, departments and agencies.
Below are some of the major recommendations. 
National-level taskforce
A national-level taskforce supervised by the Honourable Prime Minister and participated by experts from various fields is needed for coordinated measures, said Barrister Nihad Kabir, President, the Metropolitan Chamber of Commerce (MCCI). "There has to be a strong supervisory and coordinating mechanism which we can see and access. If we survive, the economy one of these days will take care of itself. If we don't survive, discussions about the economy are going to be moot."
Maintain functionality, provide ease  
Port functions are no longer the same due to the pandemic, said Foreign Investors' Chamber of Commerce and Industry (FICCI) president Rupali Hoque Chowdhury. For essential items, the government has provided a clear guideline. A similar guideline is needed for activities surrounding non-essential items, she said. There are non-essential industries that need their materials released from port in order to avoid demurrage. "Emergency assessment teams should be deployed to all customs houses and all delay charges including port demurrages, starting from Mar 26, need to be waived during the crisis period."
She also proposed that advanced income tax and VAT incurred at import stage for industrial raw materials be rescheduled after six months to provide relief to company cash flow.
Easing debt payment capability, risk sharing and liquidity
From the banking sector, three policy-level recommendations were shared by Standard Chartered CEO Naser Ezaz.     
For easing debt payment capability of clients, he said, the central bank should come up with a guideline for bodily shifting the maturity of debt for three months so that there is no accumulation of payment at the end of June. "We have been instructed to not change the classification of debt until the June 30. But that does not mean that loans will not be overdue. At the end of June, a significant amount of debt will pile up, which our clients will suffer to repay."
A credit guarantee scheme is needed so that banks can help more people, he said. "To allow banks to increase their engagement especially in the SME sector, which accounts for 65 percent of the economy, the central bank should come up with a credit guarantee scheme, wherein the central bank will bear 80 percent credit risk." Without this, the banks will be reluctant to lend stimulus loans at 9 percent interest in the current negative environment, he said.
Addressing measures to boost liquidity, he said banks that are Basel III-compliant -- meaning those that heed the latest installment of internationally agreed set of measures adopted following the 2007-08 financial crisis – can have their credit reserve ratio brought down by 200 basis points, which could release up to $2.5 billion of liquidity into the economy," he said. The repo rate, at which the central bank lends money to commercial banks, should also be reduced by 200 basis points to help generate liquidity at a lower cost.
Pointing to a potential risk, he said: "There has to be a guideline that pre-payment of foreign currency loans should not be eligible for this interest rate subsidy or a loan that can be availed in foreign currency should not be used in local currency because it will alleviate liquidity tightness and increase the exchange rate."           
Bangladesh: Central bank cuts CRR requirement and repo rate further[A1] 
Taskforce for effective disbursal of stimulus loans
The government's stimulus announcement addressing all industries is highly encouraging, said Asif Ibrahim, chairman of the Chittagong Stock Exchange Ltd (CSE). He proposed the creation of a taskforce comprising both public and private sector representatives, who would regularly review progress. "What it all boils down to is implementation. A lot of the disbursement of these stimulus packages will depend on how quickly we can cut through red tape and make these funds available to the businesses that need them." 
He urged the National Board of Revenue (NBR) to reduce income and corporate tax by 5 percent across all sectors and provide tax relief for a minimum of three years. "Delayed tax payment process can be introduced. NBR can postpone collection of taxes for two quarters and stop indiscriminate use of account freezing of firms. We are requesting no charge for delays, particularly for SMEs." He also addressed the need for safeguarding employment as well as research and development.
Lower electricity prices, support local industries, provide buyer's insurance 
The government should take advantage of low oil prices and lower cost of the government subsidies to reduce electricity prices for households, businesses and factories, said Syed Nasim Manzur, managing director of Apex Adelchi Footwear Ltd. and Apex Enterprises. The government can also consider providing support to low-income communities who can no longer afford to pay rent for their homes or shops, he said. He pointed out how local industries rely heavily on sales during Pahela Boisakh and Eid-ul-Fitr, during which everything from food to furniture is consumed at great volume. "The local industry has been the strength of the economy going forward. Small tailoring and fashion houses have built up stock which they will not be able to sell."
If crisis continues beyond September, a fund will need to be created for retrenched workers, he said. He also urged the IFC to look into the possibility of providing buyer's insurance (state-run, post-shipment insurance) that the factories for RMG, footwear, ceramics and other export goods can avail in these uncertain times.
The transition from relief to recovery to long-term resilience  
"Public-private dialogue is very critical for this time. Thanks to BIDA for continuing good ties between the private sector and the government," said Yutaka Yoshino, the World Bank's Program Leader of Equitable Growth, Finance & Institutions (EGFI) in Bangladesh and Bhutan. "The transition from relief to recovery and then to long-term resilience has to be timed very carefully. We are drawing lessons learned from previous crises that hit countries around the world and provide timely knowledge support," he said. 
"Liquidity will be an issue, so we will see how we can come up on the liquidity and the risk sharing side," said Nuzhat Anwar, Senior Country Officer at IFC - International Finance Corporation. "We are planning support in two phases. The relief stage will involve providing immediate working capital facility in partnership with financial institutions. Recovery stage will come after three to six months and will involve reviving the economy through policy level engagement and regular investments."