FDI: Foreign companies discuss continuation, recovery
Apr 22, 2020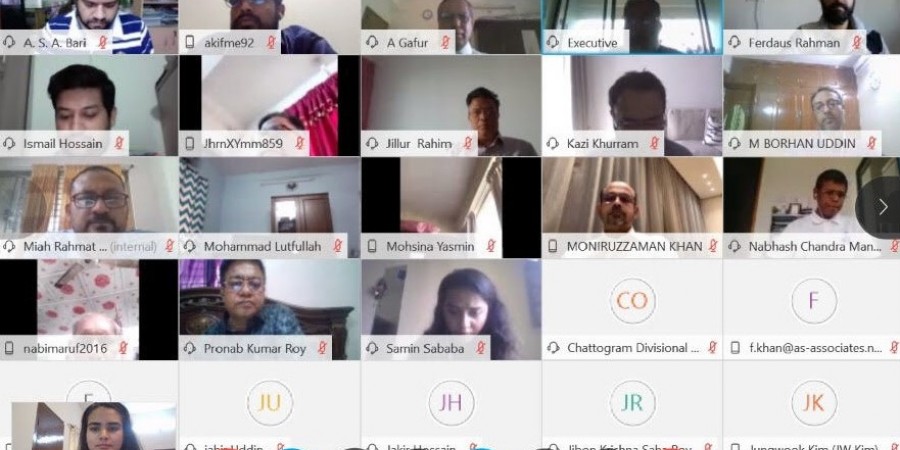 FDI is more than an important source of financing. It allows the import of technology and business knowledge crucial for improving productivity.
BIDA organized a brainstorming session with foreign companies doing business in Bangladesh as part of the ongoing effort to provide policy support during the COVID-19 pandemic.
"We are at a crucial moment. BIDA is engaging with the private sector to learn about their situations and specific policy needs," said BIDA Executive Chairman Md. Sirazul Islam, who chaired the session titled Mitigating Measures towards Continuation and Recovery of Commercial Activities during COVID-19.
As the government's apex investment promotion agency, BIDA will proactively pursue the implementation of ideas that has the potential to benefit the economy and the employment scenario, he said. 
The participants from the foreign companies were Samsung C&T, Marico Bangladesh Limited, Rahimafrooz Bangladesh Limited, Himalaya Drugs Bangladesh Limited, Abdul Monem EZ Ltd, Sans Packaging & Accessories Industries Ltd. Wartsila Bangladesh Limited, Sheba.XYZ, AP Moller-Maersk, Quattro Fashion Limited, Evonik Bangladesh Limited, Hamid Real Estate Construction Ltd, American & Efird (Bangladesh) Ltd, Max Infrastructure Limited, Standard Bank Limited and A.S & Associates.  
BIDA officers participated in the session and officially shared the recommendations gathered from this session with concerned ministries, departments and agencies. Private sector experts from the International Finance Corporation were also present. Below are some major recommendations. 
Online services will ease concerns
There are challenges to opening up the urban and industrial economy. Our focus should be on saving lives and that is why we need short and long-term planning, said Abdul Gafur, Director of Abdul Monem Economic Zone. Many investors are concerned about accessing service, but BIDA's One Stop Service can fix most of these problems.        
Optimise existing support
There is a uniform criteria needed to define affected businesses for good implementation of the government's stimulus packages, said A.S.A Bari, Managing Partner of A.S & Associates. "Alternative credit scoring mechanism should be adopted to finance startups, small businesses and informal sectors. More time should be allowed for payment of VAT and Advanced Income Tax and businesses involved in supplying essentials will benefit a lot if there is more coherency in the implementation of the government's directives at the field level", he said. 
Wage loan for export industries: Backend industries also need access
The accessories and packaging industry fetched $8 billion through exports during the 2018-19 fiscal year, said A.K.M. Akif, Director of Sans Packaging & Accessories Industries Ltd. "Garment items cannot be exported without buttons or packaging. Our sector needs access to the government's stimulus package for paying wages." Due to the pandemic, many brands want to reduce their dependence on China, he said. "This provides a good opportunity for Bangladesh and our sector." Support backend industries because brands will look for shorter lead time, quick customs clearance and swift port operations.   
Help startups by allowing loan access, reducing fixed cost
In the last five years, startups in Bangladesh brought in USD 200 million of international ventures while employing 1.5 million people, said Samiul Kabir, Chief Strategy Officer, Sheba.xyz. "Startups are classified as small or medium enterprises. But we cannot get loans because startups usually don't have fixed assets to provide as collateral." The government can provide grants, amend policies to make startups eligible for bank loans and help reduce fixed costs such as employee tax, he said.  
Working together to solve contractual issues
Foreign investors can benefit a lot if measures are taken to expedite paperwork, said Jungwook Kim, Managing Director of Samsung C&T Corporation, which is building the third terminal at Dhaka's Hazrat Shahjalal International Airport. "When we start to emerge out of this crisis, there will be many contractual issues. Force majeure will be a hot topic and there will be no winners. We should not let contractual issues and paperwork bog us down. Samsung and BIDA can have a workshop on dealing with contractual issues. South Korea is ready to share experience and assist Bangladesh."  
He also requested the government to develop a guideline specifically for foreigners who are unfamiliar with the health system in Bangladesh.
Support the real estate industry
The real estate industry contributes seven percent of the GDP, said M. Borhan Uddin, Chief Executive Officer of Hamid Real Estate Construction Ltd. "The private sector meets 93 percent of the housing demand and employs 3.5 million people besides the architects and engineers. But our projects are suffering due to the pandemic." The sector needs to better access to the government's stimulus package for industry and services, he said.
Roadmap for essential products
The production and marketing of essential products is a priority of the government, said Christabel Randolph, Director Legal & Corporate Affairs of Marico Bangladesh Limited. "A roadmap is needed for essential products. We need to know how we can work while staying safe. That way an out-of-stock-scenario for personal hygiene products can be avoided." She pointed out that access to critical raw material is limited and there was an urgent need to smoothen port functions. 
Defer premium payments for insurance
Businesses need BIDA's help in securing measures for deferring insurance premium payments, said Jakir Hossain, Chief Financial Officer of American & Efird (Bangladesh). "Extension or payment of premium through installments is needed." He also requested the waiver of demurrages at port.
Increase bonded warehouse facility
Logistics providers are getting many requests from clients to store cargo in bonded warehouses, said Rashed Bin Ehsan, Area Legal Counsel for A.P. Moller – Maersk. "Since the ports are occupied, the government might provide interim measures for more bonded warehouses." He also requested the government to set up a common online platform where investors can provide feedback.
Extend low-interest working capital loans
Companies can be allowed access to low-interest working capital loans with the condition that employers have to keep their workers no matter their performance during the months of the crisis, said Srikanth Iyer, Business Head, Himalaya Drugs Bangladesh. He also suggested that mobile transaction fees be lowered to further encourage digital transactions.
Promote policy predictability
Provide tax plan for five to seven years and allow easier repatriation of dividend or divestment to promote predictability, said Md Zahid Hossain, Chief Financial Officer of Rahimafrooz. "Invite more FDI by providing incentives that were not offered before. Attract NRBs so they invest and increase money supply."