BIDA talks to Nordic Chamber of Commerce and Industry
May 20, 2020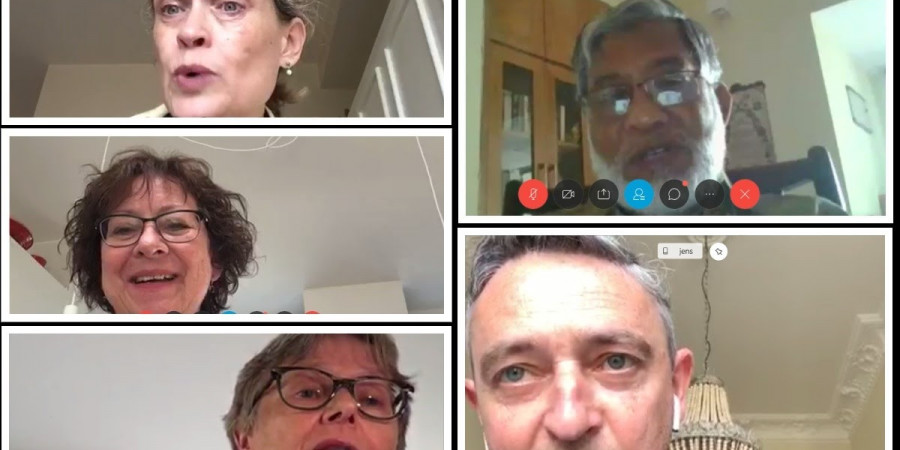 BIDA has held a dialogue with the Nordic Chamber of Commerce and Industry (NCCI), in the presence of their Excellencies the Ambassadors of Sweden, Denmark and Norway.  
Danish Ambassador H.E. Winnie Petersen, Norwegian Ambassador H.E. Sidsel Bleken and Swedish Ambassador H.E. Charlotta Schlyter participated in the dialogue chaired by BIDA Executive Chairman Md. Sirazul Islam.
Grameenphone, Maersk Bangladesh and Aman Group were among the companies that joined the meeting. Digitisation of services, access to land, policy predictability, visa facilities, repatriation of profits, port functionality and competition in the market were among the issues discussed in the dialogue.        
"We have been engaging with stakeholders to learn about the challenges they are facing due to COVID-19 and to discuss new opportunities for investment," said BIDA chief Md. Sirazul Islam.
Nordic countries are valuable for their practices and culture, he said. "We would like to organise a webinar with Nordic companies and extend our support."
"BIDA is doing its best to guide us through Doing Business reforms," said H.E Swedish Ambassador Charlotta Schlyter. "We just had exchanges with Swedish companies. They will consider Bangladesh on a long-term basis." These companies can bring in the latest technology and sell digital solutions to local companies, she said.
Nordic companies specialize in service and technology, said Norwegian Ambassador H.E. Sidsel Bleken. "Capital investment is an untouched area. Bangladesh has the opportunities and we have the capacity."
"Bangladesh can define sectors for FDI and provide incentives," said Danish Ambassador H.E. Winnie Petersen. "Vietnam is a good example, where 62 percent of the IT sector is propelled by FDI. Bangladeshi industries also need fluid investment."  
As many companies are considering relocation due to COVID-19, we are expecting stakeholders to relocate to Bangladesh, said NCCI President Tareq Rahman. "Many expatriates have left and are worried about the return process."   
"Apply online for our visa recommendations. We have processed over a 1,000 applications through our online One Stop Service during the general holidays. Following our recommendation, the Department of Immigration and Passports will issue the visa," said Md. Ariful Hoque, BIDA's Director for Registration & Incentives (Commercial).
Discussing exit strategies, he said, "BIDA, Bangladesh Bank and other agencies are working together to standardise rules in line with global standards.
BIDA is the government's lead agency for coordinating business climate reforms. Bangladesh reported reforms in seven out of the 10 Doing Business indicators for the World Bank's 2021 Doing Business report.
To enhance the country's policy environment, BIDA has advised government stakeholders to consult with industries and allow them time to readjust if policy changes have to be made.