BIDA talks to Bangladesh China Chamber of Commerce & Industry
Jun 02, 2020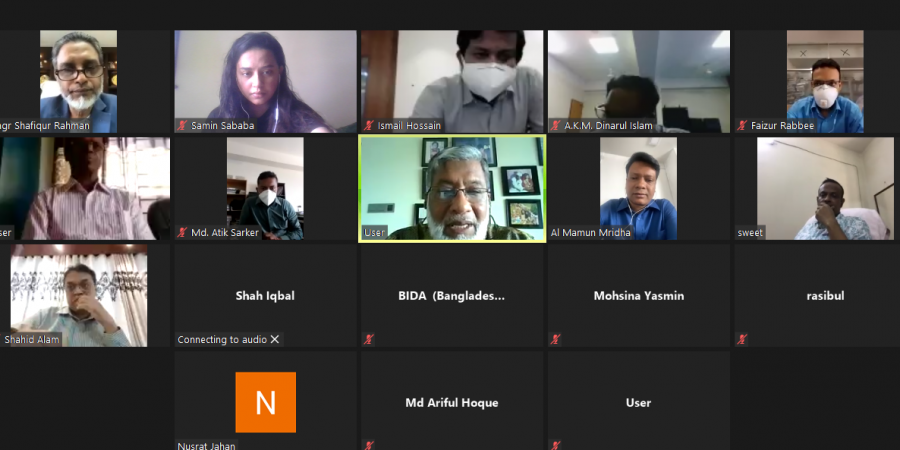 BIDA has organised a dialogue with Bangladesh China Chamber of Commerce & Industry (BCCCI) to discuss new investment opportunities and the challenges faced by businesses during the COVID-19 pandemic.
"There are 510 Chinese companies operating in Bangladesh," said BIDA Executive Chairman Md. Sirazul Islam. "We need more FDI to secure our economic future. China has a lot of interest in Bangladesh since they are our biggest FDI contributor."
The BIDA chief sought cooperation from BCCCI to identify potential sectors and proposed further engagement to secure new investments from China. "We want to promote Bangladesh to Chinese investors through webinars, since the pandemic is restricting our movements," he said.
COVID-19 has led to a decline in consumption, but new opportunities have also emerged. BIDA's dialogue focused on supporting existing investors, attracting new investment and getting Chinese FDI for the development of back-end industries.
"We are thankful to you for your engagement with various chambers," said BCCCI Joint Secretary General Al Mamun Mridha. "We need BIDA's support to face the challenges posed by COVID-19.
BCCCI members shared recommendations including simplified access to stimulus loans, smooth port functions, offshore banking facility and worker safety. "Factories host different types of operations. Instead of a general guideline, factory-wise training can be conducted," said Mr. Al Mamun Mridha.
Readymade garments particularly manmade fiber, was among the potential sectors discussed during the meeting. Waiver of VAT was sought for manmade fiber. China's example can be used to modernise agriculture and food processing. The development of the light engineering sector can create local capacity to manufacture machines used in agriculture. Capital machinery, IT and electronics were also termed as potential sectors for Chinese FDI besides diversified jute products.
Bangladesh can also attract Chinese FDI in potential back-end industries. Active Pharmaceutical Ingredients (API) can be produced for the pharmaceutical sector. Medical equipment such as PPE and masks can be manufactured for the domestic health sector and export. Building materials, which are now dependent on import, can be produced locally to meet the demands of the real estate sector.   
Chinese delivery-based companies can benefit from the large market in Bangladesh and transfer knowledge of online-based supply chain management, according to BCCCI. Chinese investors are also interested in a virtual store for displaying Chinese products and sharing success stories.
Mohammad Monsour Uddin, Commercial Counsellor at Bangladesh's embassy in Beijing, joined the discussion. "We can arrange seminars for each potential sector and invite trade bodies as well as members of the media. We can also organize B2B talks to display products and get information on market demand."
BIDA plans to arrange a dialogue with the Chinese Embassy to move ahead with the proposals. BIDA is pushing forward regulatory reforms for improving Bangladesh's business climate and has set up round-the-clock processing of applications through the online One Stop Service.
The recommendations gathered from investors after implementation of lockdown measures for COVID-19 has been officially shared with the relevant ministries and agencies.
The sectors that have so far attracted the most Chinese FDI are Power and Textile and Weaving. Trading, Leather and Leather Goods and Constructions are other key sectors as per FDI stock from 2019.